05 Jul

Dage-MTI is Changing the Field of Pathology with Cutting Edge Technology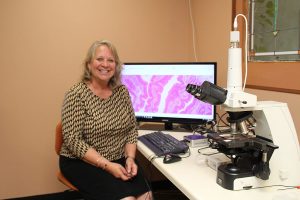 Dage-MTI was recently featured in a publication, which highlighted some of our new technologies that are taking the pathology field by storm. You can view the article by clicking here or read below.
"Many people might not know it but right here in La Porte County and, more specifically, Michigan City there is a company on the cutting edge of their field who are creating products that are changing the way some industries operate.
Dage-MTI has been around for over 40 years but their newest technology is anything but old. "We are actually the oldest camera manufacturing company in the country at this point," said Peggy Moore, CEO at Dage-MTI. "We've got that long of a history."
In 1975, Dage-MTI was formed after a merger between Dage Television and Maryland Telecommunications (MTI) and has resided in Michigan City ever since. Then, in 2003, John and Peggy Moore acquired the company through, basically, an asset buyout. Peggy Moore had been an employee with the company for many years and, John, Dage-MTI owner, had been with the company in the past and returned when the buyout took place.
Dage-MTI is an international leader in the design and manufacture of high performance digital high definition microscope cameras, monitors, and digital streaming devices. They offer state-of-the-art, revolutionary HD cameras to the fast-growing imaging markets for pathology, ophthalmology, dental surgery and telemedicine.
The highest HD resolutions, fastest frame rates, superior color reproduction and live full screen HD streaming are just some of the technologies that Dage-MTI has to offer to clinicians, laboratory managers and surgeons.
"The whole premise of our product line starts with true high definition cameras," said (Peggy) Moore. "We interface and interact with the microscope manufacturers including Olympus, Nikon, Zeiss, Leica and others."
One of the major areas in which Dage-MTI is having a profound impact is the field of telepathology. Telepathology is the practice of pathology at a distance through the use of telecommunications technology. This new technology facilitates the transfers of image-rich pathology data for the purposes of diagnosis, education, and research over long distances.
"The world is changing in the way that we do certain things," said (Peggy) Moore. "This technology is that next step in changing a lot of avenues out there. Telepathology is one of the major markets we're addressing now."
John echoed Peggy's sentiments in saying, "It's a revolutionary process in terms of transporting high definition video imagery to remote locations worldwide. This technology is really going to change the process and the field of pathology."
"As an example, there's a hospital that has a lab and a pathologist that needs to look at a slide," added (Peggy) Moore. "They take a sample and they could be looking at cancer cells or a range of things depending on the pathology. Generally, they would look into the microscope to view this slide."
"We have a whole line of HD cameras that can fit on the microscope and then display that image live on a video screen. Now, with our new product,we have the ability to transmit that image to a remote location, whether it's in the same hospital facility, around the corner or whether it's in remote lab in another town, another state or another country. Some places can do this now but this is true high definition imaging at a very high frame rate."
The technology that Dage-MTI has been perfecting has uses beyond the biomedical field as well. For example, the cameras and streaming equipment can be used for high-end industrial inspection where device manufacturers can fix mistakes and solve problems through streaming live images to designers and engineers who can then work immediately to remedy the situation.
"We also have a 4K Ultra-HD camera that we're looking at doing transmissions with but the bandwidth just isn't there to achieve the full resolution yet," said Moore. "We're working on a squeezed down version now but it will only increase as technology moves forward."
Things are always changing and as our technological capabilities become greater and greater it's exciting to know that some of the companies creating revolutionary new devices and breakthroughs in their industries are right here in Michigan City."