22 Mar

Introducing the IR-2000 Camera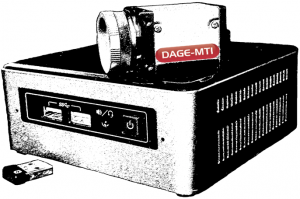 The IR-2000 real-time monochrome camera is the next evolution of infrared imaging from Dage-MTI. The new and improved digital version of the IR-1000 – the IR-2000 is ideal for applications that require fast response and excellent sensitivity in both the visible and near infrared (up to 1100nm). It has the added ability to operate in brightfield and fluorescence – making it ideal for electrophysiology.
The IR-2000 features live imaging at industry leading frame rates and up to 4K Ultra HD resolution (adjustable frame rates and resolution). Users can operate the camera in auto-exposure and auto-gain or in manual mode. Contrast, gamma, and various other settings are available to achieve the optimal image for any application!
The simplistic IR-Capture software requires zero training – simply plug and play! The digital zoom feature provides instant magnification for viewing small details in the live or captured images, which is especially true while viewing in 4K resolution. Users can save images with the click of a button and can access other on-screen tools, such as overlays and measurements.
The IR-2000 is available as a stand-alone configuration (camera + controller – pictured above) with an HDMI output or a PC-ready configuration (camera head) that connects to a computer via USB 3.0.