26 Apr

IR-2000 Offers Increased Flexibility for IR Applications

The IR-2000 is latest technological advancement from Dage-MTI for infrared imaging applications. It offers increased sensitivity for the visible and near IR (up to 1100nm) at industry leading frame rates to provide an unmatched viewing experience. The camera is available as a stand-alone option (HDMI input to monitor) or a PC ready version, which can be connected to a users current PC. We have provided some additional information below on each of these options.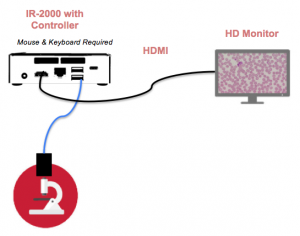 IR-2000 with Controller (Stand-Alone) – The IR-2000 with controller is a stand-alone option that is ready to go out of the box – no software downloads or updates required. It connects directly to a monitor via HDMI and enables users to start using the IR-Capture software display immediately – does not require connection to a CPU. This version is very similar to the popular IR-1000 camera model, as it operates in a stand-alone mode and offers live display through the controller. The new IR-2000 controller provides access to IR-Capture software settings for image enhancement (brightness, contrast, resolution, frame rate, overlays, measurement, etc.). Images can also be captured/recorded directly in the controller or to a USB drive. In addition to IR-Capture, the controller also has Windows 10 installed and can function similar to a mini-PC (if needed).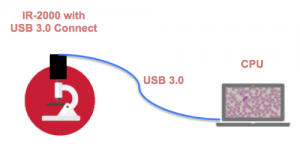 IR-2000 USB 3.0 (PC Ready) – We also offer the IR-2000 camera without the controller. The camera head has a USB 3.0 output that can be connected directly to a USB 3.0 port on a user's computer. The user would simply need to download our device driver and the IR-Capture software to begin viewing live images on their computer. The same access to IR-Capture software settings for image enhancement is provided in this camera version. NOTE: It is important to confirm technical performance of a customer's computer to ensure it meets the operating requirements necessary to run the IR-Capture software and camera. Please refer to the performance requirements on the IR-2000 spec sheet or send us an email with questions at imagingexperts@dagemti.com.