30 Oct

HD-Stream & The Importance of Telepathology

Why we stream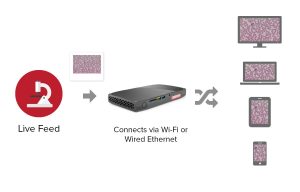 Simply put – live streaming for microscopy saves time and money. Live remote consultation provides the opportunity to receive real-time, immediate feedback for microscopy images. This is especially important due to the centralization of pathology groups; which are often times located off-site or in a different area of the hospital/institution.
Case loads for Pathologists are greater than ever and the opportunity to provide a solution to streamline diagnostic efforts, collaboration, and consultation services is paramount. The additional revenue generated from a hospital's ability to treat more patients is often times overlooked; but this has a significant impact on the organization and its ability to continue providing high-quality care.
How we stream (encode & decode)
HD-Stream is a stand-alone device which provides direct internet/intranet connection for transmitting real-time HD images. HD-Stream can connect to the network via a wired ethernet connection or through its built-in wifi adapter.
We have created a simple user interface with the ability to stream live high definition images over the internet that can be viewed on any device (computer, phone, tablet, etc.) in real-time. The process of compressing, encoding, streaming, decoding and viewing the live image is incredibly complex. Our stand-alone box utilizes an advanced compression scheme, which converts the high definition digital signal output of the camera to a video encoded signal (accelerated H.264), which then allows the high definition data to be transmitted live over a wired Ethernet of Wi-Fi connection. The destination of the compressed video is a remote user's viewing device (computer, phone, tablet, etc.), where a video decoding program is used to convert the digital signal so that the user can view the same original live high definition image as the operator. Data transmission is instantaneous!
Stream Features
While the streaming puzzle is uniquely complex, we have created a solution that takes these complexities and makes it very simple. We worked with countless individuals to gather feedback and guidance on creating a solution that would easily integrate into the lives of users. The HD-Stream user-interface requires minimal training (if any) and is essentially a plug-and-play system. This eliminates the need for weeks of training or support and instead, enables the end users to implement the solution immediately. Training costs are widely underestimated in the overall value of a solution and HD-Stream takes the growing complexity of solution-integration and makes it simple for everyone.
The flexibility of HD-Stream (wifi/Ethernet + portability) provides a distinct advantage over competitors. We have built this to be an all encompassing solution for the every-day microscope user. With one touch, the user can turn on live streaming. HD-Stream is able to stream effortlessly, and also has the added ability to record HD video (with or without audio), capture images, print images, add on/off overlays (which appear on the streamed images, as well as captured images), add text, measurement tools, and access to a variety of camera settings directly from the HD-Stream interface. No additional software or downloads are needed to use HD-Stream. It is a solution that provides everything you need and redefines the way you work.
Secure – HIPPA compliant. Encrypted transmission ensures no patient identifiable information is exchanged with transmission of live images.
Customizable and password protected URL's
Configure automatic file transfer to a local USB drive with USB 3.0 file transfer speed, removable SD card, or to networked storage to ensure files are always protected.
Customizable memories and naming for measurement settings.
HDMI output allows direct connection to HD displays or projectors
Unique Interface to Cameras
When connected to a qualified camera, HD-Stream configures settings automatically, including bitrate, frame size, GOP layouts and more so that the customer immediately has access to a live image at startup. There is no customer configuration required to view a live image instantaneously. In addition, direct access to controls of qualified cameras makes the streaming solution unique to the connected model.
Applications
HD-Stream is a "one-to-one" and "one-to-many" solution, which means that a single stream box (microscope operator) can stream to a number of viewers simultaneously. A single stream box can stream from 1 to 50 users. This capability is ideal for tumor board reviews, FNA carts, classroom settings where a teacher is sharing images with students, or any application that requires live collaboration & consultation.