30 Nov

USCAP Features Dage-MTI 4K Ultra HD Camera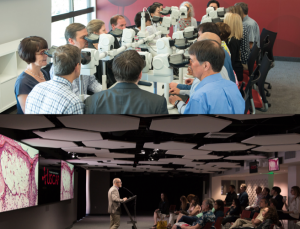 The United States and Canadian Pathology Interactive Center in Palm Springs is "a state-of-the-art learning environment that offers a conference theater and production studio where groups can host, record, edit, and share with a global audience every sound and sight of their meetings, lectures, product launches, and training programs." The USCAP center is a one-of-a-kind facility that is at the forefront of innovation for Pathology.
Dage-MTI's 4k Ultra HD and the HD-336U are state-of-the-art HD cameras that are also at the forefront of innovation for Pathology imaging; which is why these cameras were chosen for use in the USCAP center.  The cameras provide impeccable image quality, simplicity of use, auto white-balancing, and ability to deliver clear HD images at 60fps with no lag or jitter. The cameras are ideal for instructional applications that require live HD display for simple viewing.
The HD-336U camera offers live brightfield and fluorescence imaging, along with dual-outputs for simultaneous live viewing and image capture for review.  Subtle details at low magnifications come to life with the 4K-UHD ultra high resolution camera.
"We are incredibly proud to be a part of the USCAP Interactive Center! The team at Dage-MTI works tirelessly to provide advanced HD imaging solutions and it is particularly exciting to know that we are playing a small role in the advancement of Pathology. It is a huge testament to our team, our HD cameras and our continued efforts to support our partners."  Peggy Moore, President, Dage-MTI