26 Oct

How Is HD-Stream Changing Telepathology?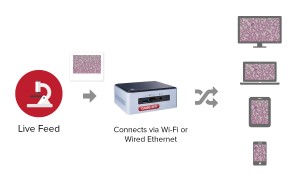 The new HD-Stream from Dage-MTI is an intuitive solution that allows users to stream, record, and capture live HD images, all with the click of a button. HD-Stream is a stand-alone device that connects to an HD camera and then directly to a network via wired ethernet or Wi-FI and does not require licensing fees  or software downloads. This is truly built to be a user-friendly solution with no headaches or hoops to jump through. Users love it's simple interface and ability to start streaming with the click of a button.
Save Time – Consultation and collaboration can be done in high definition in real-time with HD-Stream. Simply connect HD-Stream to your microscope, share a secure URL and begin streaming. No need to wait for slide transports or images to be sent.
Save Money – Your organization can reduce or eliminate the need for travel and shipping costs of slides. This is a HUGE cost savings and allows your facility to run more efficiently, which also saves money.
Save Headaches – The worry of breaking slides during transport is eliminated with HD-Stream. Additionally, the real time collaboration enables physicians to get results in real time and avoid scheduling conflicts of later collaboration.
Save Lives – The ability to increase efficiency and provide a faster diagnosis can help save lives. This also leads to a better patient experience and higher quality healthcare.
To learn more about HD-Stream and its cutting edge features, check out the HD-Stream page or contact Dage-MTI at imagingexperts@dagemti.com